Home
Authors
Posts by Euan Lindsay
Euan is a former soldier, a retired architect, amateur historian and re-enactor with decades of experience.
Authors note: Before we proceed, we would like to offer a quick explanation of the title of this article and the thoughts driving...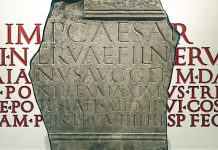 Pick up a paper or read a web article which makes mention of the mysterious disappearance of the Roman Ninth Legion -...