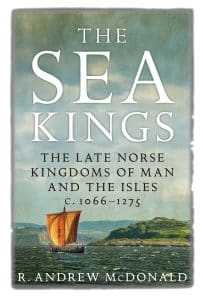 The archipelagic kingdoms of Man and the Isles that flourished from the last quarter of the eleventh century down to the middle of the thirteenth century represent two forgotten kingdoms of the medieval British Isles.
They were ruled by powerful individuals, with unquestionably regnal status, who interacted in a variety of ways with rulers of surrounding lands and who left their footprint on a wide range of written documents and upon the very landscapes and seascapes of the islands they ruled.
Yet British history has tended to overlook these Late Norse maritime empires, which thrived for two centuries on the Atlantic frontiers of Britain.
This book represents the first ever overview of both Manx and Hebridean dynasties that dominated Man and the Isles from the late eleventh to the mid-thirteenth centuries. Coverage is broad and is not restricted to politics and warfare.
An introductory chapter examines the maritime context of the kingdoms in light of recent work in the field of maritime history, while subsequent chronological and narrative chapters trace the history of the kingdoms from their origins through their maturity to their demise in the thirteenth century. Separate chapters examine the economy and society, church and religion, power and architecture.
R. Andrew McDonald is Professor of History at Brock University, Canada, where he was the founding director of the Centre for Medieval and Renaissance Studies. He is the author of many books, book chapters and articles on medieval Scottish, Hebridean and Manx history, including The Kingdom of the Isles: Scotland's Western Seaboard, c.1100–c.1336, and is co-editor of The Viking Age: A Reader and Alba: Celtic Scotland in the Middle Ages.
Publishers webpage: https://birlinn.co.uk/product/the-sea-kings-2/