On 27th April 1650, a Royalist force commanded by James Graham, Marquis of Montrose, was heavily defeated by a Scottish Covenanter army led by Colonel Archibald Strachan at the Battle of Carbisdale.
Following his defeat to the Covenanters at the Battle of Philiphaugh in September 1645, and with the surrender of Charles I to the Covenanters in July 1646, Montrose sailed to Europe and went into exile. Charles I was handed over to the English Parliamentarians who put him on trial and executed him on the 30th January 1649. His son Charles II was proclaimed King of Scots in February 1649 and he appointed Montrose as his Captain-General in Scotland, authorising him to seek foreign military aid.
In the spring of 1649, Montrose travelled through Germany and Scandinavia recruiting mercenaries to fight for the Royalist cause in Scotland. In September 1649 Montrose sent an advance force of 200 Danish troops to occupy Kirkwall in Orkney. Montrose arrived at Kirkwall in March 1650 with around 250 German troops and was able to recruit 1000 local Orcadians.
On the 9th April, a detachment of the Royalist force sailed from Orkney across the Pentland Firth to John o' Groats on the mainland to secure a landing spot, with the main force following on the 12th. Thurso was occupied and the Royalists besieged Dunbeath Castle which quickly fell. Montrose then moved his army to Carbisdale where they set up camp and awaited support from the northern clans. However, no reinforcements would come.
A Covenanter force of 200 cavalry and a company of musketeers under Colonel Archibald Strachan was advancing rapidly towards Montrose's position. Strachan was also joined by 400 clansmen from the Munro, Sutherland and Ross clans, the same Highlanders that Montrose had hoped would join him. The Royalists numbered around 1500, most of them raw recruits.
On the 27th April, Strachan moved his cavalry and musketeers towards the Royalist camp and, believing that this was the entire Covenanter army, Montrose moved out to meet them. Once the Royalist forces had left their camp, Strachan then sent his 400 clansmen to flank and then ambush Montrose's men. The Orcadians panicked and fled the field, the Danish and German mercenaries surrendered.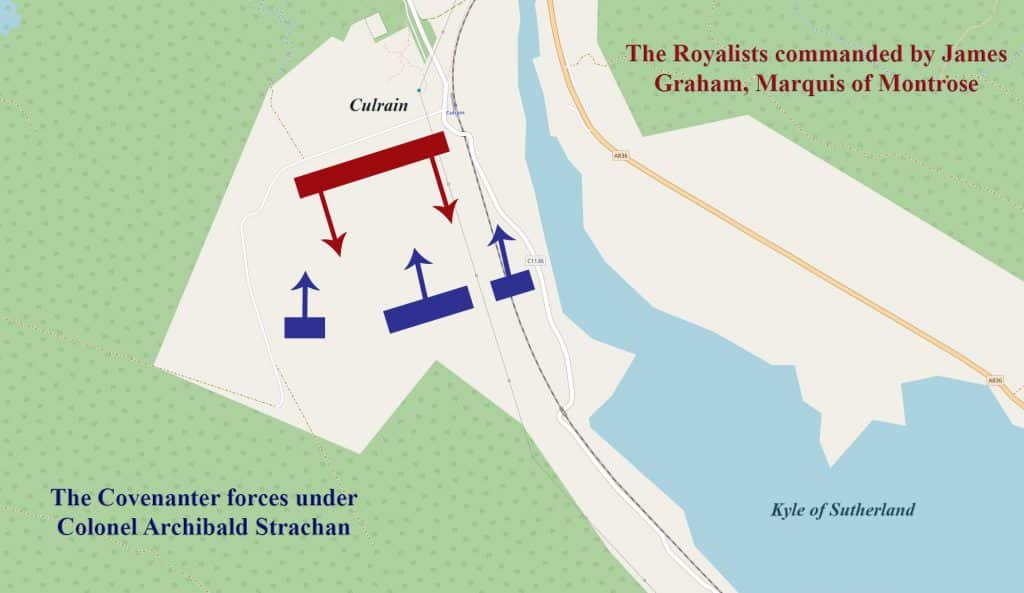 Casualties on the Covenanter side were extremely low, with some sources claiming they suffered a single casualty. The Royalists lost around 400 killed and 450 captured on the field. In addition, a large number of the Orcadian troops were drowned while trying to cross the Kyle of Sutherland.
For Montrose, his defeat at Carbisdale, like his earlier defeat at Philiphaugh, was in part due to a lack of good intelligence and proper scouting. Within a month he had been captured and executed.