HMS Dasher (D37) was a Royal Navy Avenger-class escort carrier that suffered a major internal explosion and sank midway between the Isle of Arran and Ardrossan on the Clyde on 27 March 1943.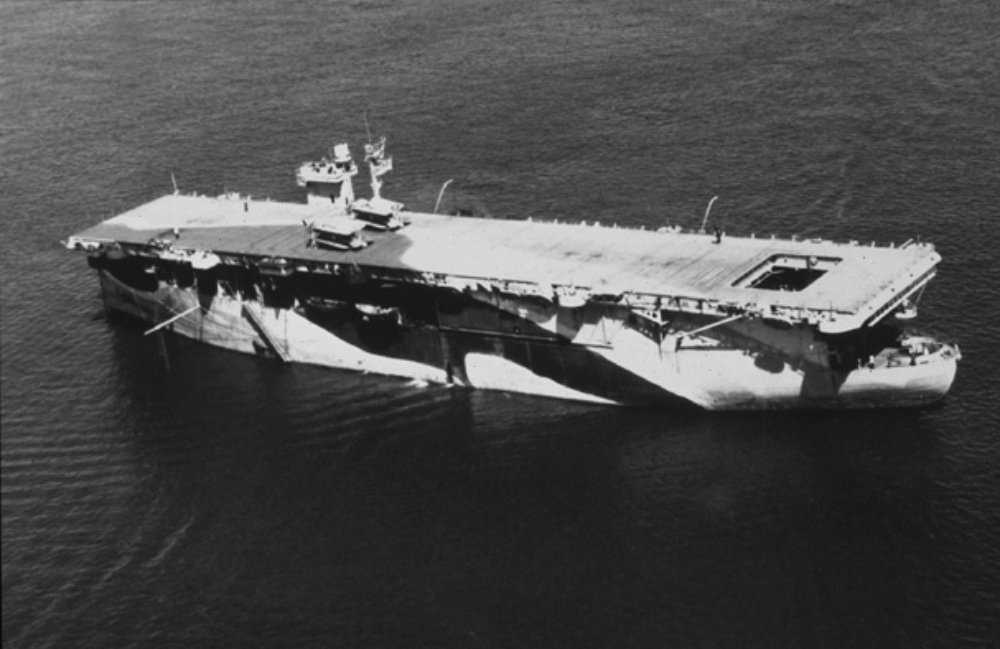 The vessel was built by the Sun Shipbuilding Company in Pennsylvania and was originally intended as a passenger and cargo ship.
Launched on 11 April 1941, the vessel was converted to an escort carrier at the Tietjen & Lang shipyard in New Jersey and under the 'Lend Lease' scheme was transferred to the Royal Navy and commissioned into service as HMS Dasher (D37) on 2 July 1942.
As the Avenger-class escort carriers were converted American merchant ships they were not built to the same specifications as Royal Navy and US Navy vessels. Fuel storage and leaking fuel tanks appear to have been a major problem.
Dasher was held at Tietjen & Lang shipyard until August 1941 in order to fix a number of defects.
Additional modifications to Dasher's fuel supply and magazine were carried out at Greenock before it sailed for Operation Torch, where Dasher and its sister ship Biter supported the Allied landings in North Africa in November 1941.
In the same month, Dasher's sister ship Avenger suffered a major explosion after being hit by a torpedo.
On 27 March 1943, Dasher was out from Greenock on the Clyde carrying out exercises with the ship's embarked Sea Hurricanes and Swordfish aircraft in preparation for a strike against the German warship Tirpitz in Norway.
With training completed for the day, Dasher began to head back to Greenock when an explosion occurred at around 16:40. This was followed by a second explosion which lifted the ship's two-tonne aircraft lift about 60 feet into the air. By 16:48 Dasher had sunk.
Of the 528 crewmen on board, 379 died. It was the second worst loss of life in home waters since the sinking of HMS Royal Oak at Scapa Flow in Orkney in October 1939.
The Admiralty placed a blackout on any reporting about the sinking of Dasher and its loss remained classified until the end of the war.