On the 27th July 1689, Scottish Government forces under the command of General Hugh MacKay of Scourie are defeated by a Jacobite army, loyal to the deposed King James VII/II, commanded by John Graham of Claverhouse, at the Battle of Killiecrankie, south of Blair Atholl in Perthshire.
In the space of 20 minutes, some 2,700 men lay dead or wounded on the braes. Although a large portion of the Government force was swept away in the face of the Highland charge, a couple of battalions on the Government right stood their ground, and led by MacKay himself, retreated from the field in relatively good order, making their way to Stirling.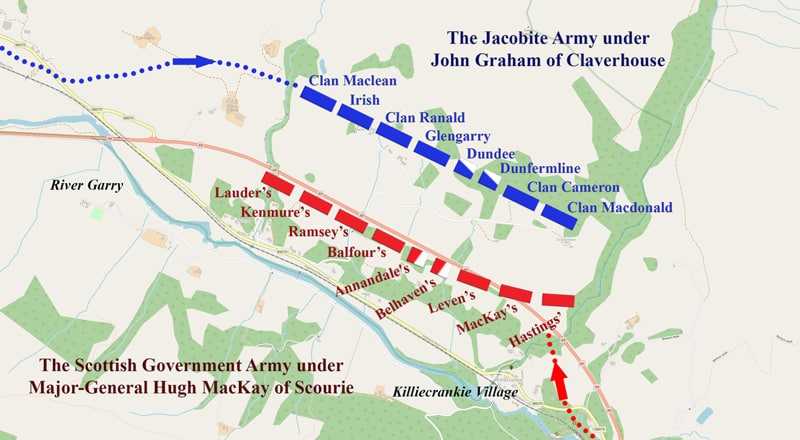 Donald McBane, a soldier in Mackay's army, later wrote an account of the battle in his autobiography, 'The Expert Swordsman's Companion', published in 1728:
"At last they cast away their musquets, drew their broadswords, and advanced furiously upon us, and were in the middle of us before we could fire three shots a-piece; broke us, and obliged us to retreat. Some fled to the water, and some other way; (we were for most part new men.) I fled to the baggage, and took a horse, in order to ride the water there follows me a Highlandman with sword and targe [shield], in order to take the horse, and kill myself. Youd laugh to see how he and I scampered about. I kept always the horse between him and me; at length he drew his pistol, and I fled; he fired after me. I went above the pass, where I met with another water, very deep. It was 18 foot over, betwixt two rocks. I resolved to jump it; so I laid down my gun and hat and jumped, and lost one of my shoes in the jump. Many of our men were lost in that water, and at the pass. The enemy pursuing hard, I made the best of my way to Dunkel [Dunkeld] where I stayed until what of our men was left came up; then every one went to his respective regiment."
Claverhouse was wounded leading the charge towards the centre of the Government line and died shortly after the battle. It is said he was finished off by someone on his own side as he lay injured, other accounts state he was carried from the field still alive but died a short time later. With the death of Claverhouse, the Jacobite rising of 1689 suffered a serious blow.
The following month the Jacobites, led by Alexander Cannon, were defeated at the Battle of Dunkeld.
Note: The contemporary name for the battle was the Battle of Renrory or Ranrourie, which was the name of the house and grounds where the battle was fought. Renrory House (now Urrard House) was where General Hugh MacKay established his headquarters before the battle. In General Roy's map (c.1750) the battle site is marked as just above Ranrourie.
Further Reading:

The Battle of Killiecrankie: The First Jacobite Campaign, 1689-1691, (2018), Jonathan D. Oates, Helion and Company
The Battle of Killiecrankie 1689: The Last Act of the Killing Times, (2018), Stuart Reid, Frontline Books
Memoirs of the War Carried on in Scotland and Ireland: 1689-1691, (2018), General Hugh MacKay, Classic Reprint Series
Memoirs of Sir Ewen Cameron of Lochiel, (2012), Sir Ewan Cameron, Classic Reprint Series
The Last Scot's Army: 1661-1714, (2003), Stuart Reid, Partizan Press
Bonnie Dundee, (2000), Andrew Murray Scott, John Donald Publishers Ltd